Two lectures for general public are presented on June 3rd and June 7th.

Public lecture in Japanese

「ニュートリノと宇宙」(Neutrino and Universe)
Prof. Masatoshi Koshiba, Special University Professor Emeritus, University of Tokyo, Nobel laureate in 2002
June 3rd (Sun) 14:30-16:00 @ TERRSA Hall, Kyoto TERRSA
See public lecture page for more detail

Public lecture in English

"Neutrinos maybe our mother!"
Prof. Hitoshi Murayama, IPMU Director
June 7th (Thu), 20:00-21:00 @ TERRSA Hall, Kyoto TERRSA
Before the lecture (19:00-20:00), Maiko-san will come, and Maiko-san's dance will be performed. See below in detail.
Welcome drink and snack

June 3rd (Sun),

16:30-19:00
Registration desk will be open during 16:30-19:00 in the entrance lobby of the West Bld, Kyoto TERRSA. During registration "Welcome Drink and Snack" will be served at Restaurants "Suzaku", 1st floor, East Bld, Kyoto TERRSA.

Welcome Reception

June 4th (Mon),

18:45-20:15 @ TERRSA Hall, Kyoto TERRSA
Banquet
We invite you to the conference banquet on June 6 (Wed), 19:00~ at Toei Uzumasa Eiga Mura (Toei Kyoto Studio Park). Buses are arranged from Kyoto TERRSA to the banquet venue. Please get together at

June 6th (Wed), 18:00
Kyoto TERRSA West Bld's entrance lobby
Optional amusement for banquet; Let's enjoy the banquet with wearing Yukata. Detail is described in Excursion Section (Course-C). If you are interested, please register from there.

Please register through the personal AMARYS web page where you made registoration for participation:
https://amarys-jtb.jp/neutrino2012/WebRegistry/RegBasicCheck.aspx?kb=A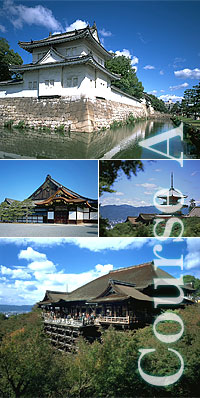 Course A - Kyoto World Heritage Tour
We go around the most popular three spots on this course A. These spots are far apart from each other, so we recommend this tour, on which we you can take around shortly by bus.
Each temple has a large garden and unique feature. Wear casual wear so as to do a lot of walking. Let's have a cup of water of Otowa-no-taki at Kiyomizu temple in prayer for longevity. There are provided three types of water. But hold yourself back! It is said that you will lose benefit if you have all of three kinds of water.

Kyoto World Heritage Tour
*English-speaking guide service is included.
| | |
| --- | --- |
| Date | June 7th (Thu) |
| Assembly Place | Kyoto Terrsa |
| Assembly Time | 12:30 |
| Minimum number of participants | 20 people |
| Time | 12:40-17:00 (Tour finish at The venue) |
| Meals Provided | none |
| Tour Fee | JPY5,600 |
| Place to visit | Golden Pavilion, Nijo Castle, Kiyomizu temple |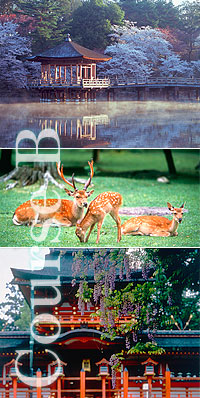 Course B - Nara Tour
We extend our visit to Nara on this course B. Nara, which is about one-hour drive from Kyoto, has a different atmosphere from Kyoto.
We go around three famous spots in Nara. Why don't you take a rest between researches, playing with deer? The Great Buddha of Todai-ji temple is the largest class of Buddha. There is a pole with a hole as wide as a nasal cavity of Buddha. Let's duck through the hole, which is said to protect you from illness.
Nara Tour
*English-speaking guide service is included.
| | |
| --- | --- |
| Date | June 7th (Thu) |
| Assembly Place | Kyoto Terrsa |
| Assembly Time | 12:00 |
| Minimum number of participants | 20 people |
| Time | 12:10-18:00 (Tour finish at The venue) |
| Meals Provided | none |
| Tour Fee | JPY6,600 |
| Place to visit | Todaiji temple, Kasuga Shrine, Nara Park |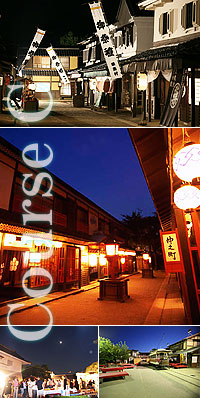 Course C - Let's try to wear
Japanese traditional "Yukata"
On the day of the banquet, we provide you an opportunity to wear "Yukata" and go Toei Kyoto Studio Park, so-called "Eiga village" where the banquet will take place. If you are dressed in Japanese yukata, you will be invited to the feeling of actor/actress of period dramas!
It takes twenty minutes to wear yukata, so please come on the designated time (in order of application). You can go out for lunch or sightsee in Kyoto city with your yukata on. Enjoy the day in Kyoto!
Let's try to wear Japanese traditional "Yukata"
Date

June 6

(Note: Date is different from other two)
Time
9:00-18:00 (For "Kitsuke" [See below] )
Assembly Place
Kitsuke room: 1-E Japanese Room, 1st floor of East Bld, Kyoto Terrsa
Tour Fee
JPY4,500
Price including rental fee Yukata and Geta (Japanese traditional Sandal)
Place to visit
Banquet wearing Yukata
"Yukata" is a casual variation of Japanese traditional clothing, "Kimono".
They are made from a fixed size of a roll of cloth for kimono, and they are suitable size for the Japanese. Let's try to wear it.
It can be short for the tall persons, who have 170cm height for women and 180cm for men, but it is still interesting to wear casually.
Please contact us to prepare best size "Yukata"for you if you are interested in.
"Kitsuke": It takes about 20min to wear Yukata. Beginner will need an expert support. The manner to dress Yukata is called "Kitsuke". On the banquet day of June 6th (wed), Kitsuke room is open from 9:00am and we dress you in order of your application. Time slot for your Kitsuke will be specified registration for this option.
June 7 (Thu) 19:00-19:30 @Entrance lobby of West Bld:
Take pictures with Maiko-san !
June 7 (Thu) 19:30-20:00 @TERRSA Hall: Maiko-san Dance



Travel Company
If you would like to sightsee privately, we recommend the tours presented by JTB CORPORATION. This is one of the most reliable travel companies in Japan.
Sunrise Tour
http://www.jtb.co.jp/shop/itdw/info/e/
Lunch spots near Kyoto Terrsa
Please see a lunch map around Kyoto Terrsa available in your conference bag.
The venue is a fifteen-minute walk from Kyoto Station.
Kyoto is full of restaurants where you are to be inspired by various Japanese foods. Let's try!
Kyoto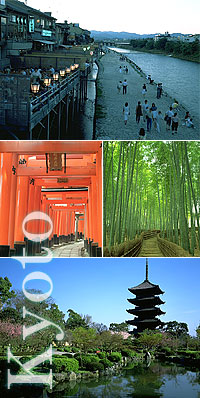 Streets in Kyoto city are laid out in a grid pattern. Subways and buses are secured, and you can ride alone safely.
Kyoto Sightseeing One-day Pass Cards are on sale. Go out for sightseeing with a map in one hand.
http://www.city.kyoto.jp/koho/eng/access/transport.html
Most of temples open early in the morning (about 5:00am - ) and close early in the evening (about 3:00 - 4:00pm). Get up early for sightseeing.
Japan is relatively safe country, but please do not stay out so late at night. Please do not stay for long in the dark nearby temples unnecessarily.
When you lose your way, please do not hesitate to ask for help to any Japanese nearby. Even if you cannot make yourself understood, the name and address of your hotel should lead you to come back.
You can extend your visit from Kyoto to Osaka (about 40-50 min. by rapid train) or to Kobe (about 60-70 min. by rapid train).

Osaka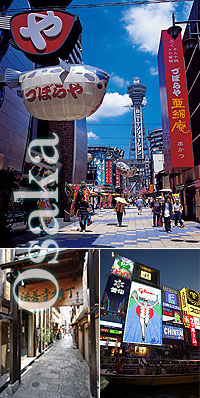 Shinsekai (New World) is the most recommendable spot in Osaka!
This is a neighborhood with the common touch. Overlook Osaka city from the top of Tsutenkaku tower. Enjoy atmosphere of Jan Jan Yokocho street. In addition, please have a beer and kushi katsu (kushi age). Be careful that dipping kushi katsu in sauce twice or more is strictly prohibited. How about having a match of go or shogi with old men in the restaurants if you can play?
If you are afraid of Shinsekai a little bit, why don't you visit more stylish district, Namba, which is located around Namba Station?
On the way after praying at Mizukake Fudoson Buddhist statue of Houzenji temple, please try hot takoyaki balls with your mouth full.
There is a very famous and big billboard of Ezaki Glico Co., Ltd., a Japanese confectionery company in Dotonbori. Posing in front of the model on the billboard for a photo is a standard!
Kobe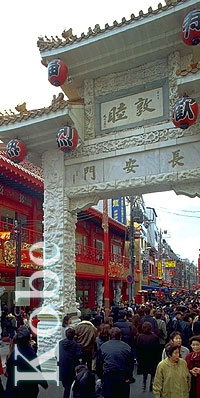 Kobe is one of the largest port cities in Japan. Fashion style for Kobe people seems smarter than Kyoto.
Recommendable sightseeing course ― Ijinkan-gai (former residential area of foreign merchants) in Kitano-cho, a city district where many celebrities live now, and then a variety of cafes and restaurants in Nankin-machi, or Chinese town.
Sea is located closely from Nankin-machi. Streets around the sea are wide and beautiful, and there are some fancy cake shops. If you have spare time, go to other spots, such as art museum.
Kyoto, Osaka and Kobe have own atmosphere and unique feature, while they are close to each other. Enjoy fully three cities in your spare time!